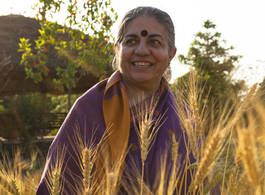 The Greens/EFA invite you to an exclusive public lecture "The Law of the Seed" by the international activist and scientist Vandana Shiva.
She will explain why the newly proposed European seed legislation is a threat to biodiversity and our common heritage.
Vandana Shiva public lecture in Brussels
Quand ?
Le mercredi 18 septembre à 19H
Où ?
European Parliament, Room JAN 2Q2
60 Rue Wiertz
1047 Bruxelles
Plus d'info auprès de Bart Staes 02/284.56.42
Via le site officiel => The Greens / European Free Alliance
Vandana Shiva sera également à Gent le 17/9 - Plus d'infos via la news suivante => Vandana Shiva in Gent